If you're a landlord with a property built before 1978, it's very likely your apartment or building contains lead-based paint. If that's the case, you need to provide lead paint disclosure information to all of your tenants.
A Brief History of Lead Paint
You already probably know that lead is an element especially hazardous to small children. Exposure to lead can cause anemia, weakness, kidney damage and even brain damage.
Lead paint was first banned in the U.S. in 1978. It still exists, however, in millions of American homes, according to the EPA. It may even exist under layers of new paint sometimes making it difficult to identify.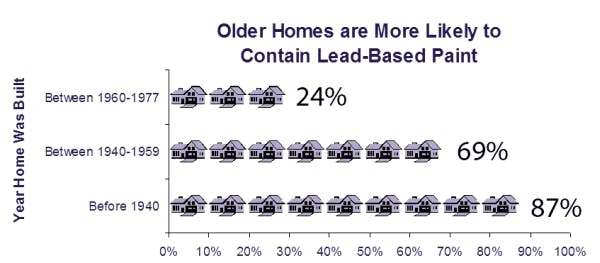 Lead paint that isn't chipping or flaking is usually okay. But, if it's deteriorating in any way, it can be released into dust or soak into surrounding soil. Paint chips can be ingested by small children and pets, as well.
In 1992, Congress passed the Residential Lead-Based Paint Hazard Reduction Act, which protects families from lead exposure in the home. Part of that law, which is also called Title X, contains a lead paint disclosure requirement.
Lead Paint Disclosure Requirements for Landlords
All sellers and landlords must disclose the presence of any known lead in a home or rental.
Here are the steps, according to the EPA, landlords need to take to make sure they are following the letter of the law.
Landlords must:
Disclose any known information on the presence of lead-based paint in the building. That includes any common areas like laundry rooms or lounges.
Include a lead disclosure attachment to the lease, or language in the lease that includes a Lead Warning Statement, and lets tenants know you've complied with all notification requirements.
Keep lead-based paint disclosure forms for at least three years after the lease of an apartment or other property.
Provide an EPA-approved pamphlet on identifying and controlling lead-based paint hazards to tenants.
The Department of Housing and Urban Development (HUD) provides the lead paint hazard pamphlet in several languages. They also provide the Lead Warning Statement in both Spanish and English.
To disclose the presence of lead, give prospective tenants any records about the inspection for or discovery of lead paint.
Keep in mind that you don't have to provide this information every time a tenant renews, just when a new tenant is ready to sign a lease.
Lead Paint Disclosure Exemptions
Aside from renewals, there are other situations where you don't have to provide a lead paint disclosure:
If your unit or property was built after Jan. 1, 1978
If your unit is a studio or loft with no bedrooms
If you're renting for less than 100 days, like those on Airbnb
If your unit or building has passed a lead-free inspection by a state-certified inspector
Lead paint disclosure is an important part of the rental process, particularly if you rent to families with little children. Take steps to give your new tenants all the information they need and ensure they have peace of mind that makes a happy, healthy home.